Kabayan! As we continue to counter the spread of the coronavirus, we'd like to touch base and update you with our new policies as we welcome the "New Normal". Our top priority remains the health and safety of our guests and employees. The following measures are in place to uphold and strengthen our welfare standards:
LOBBY / FRONT OFFICE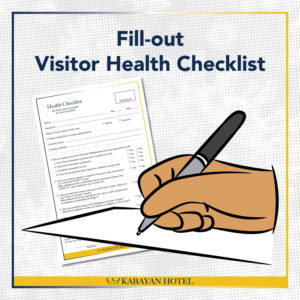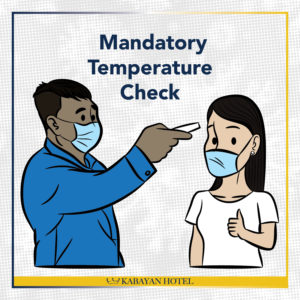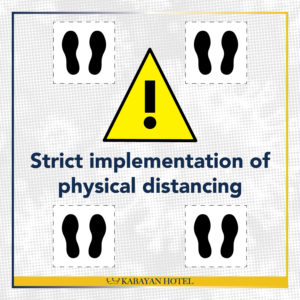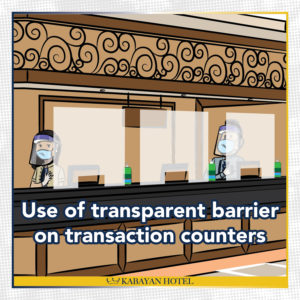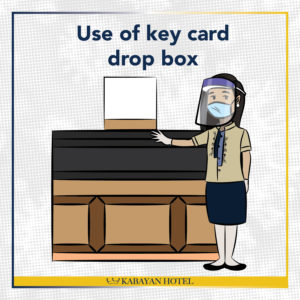 All guests are required to fill up a visitor's health checklist where guests confirm that they have not been close to anyone with COVID-19 symptoms and are not suffering from any of the common COVID-19 symptoms.
Health declaration QR code counter standees are available at the front desk for easy access. For those who can't scan the code, you may request for a hard copy from our staff or fill up the form >>>HERE<<<.
Body temperature using hand-held scanners shall be taken at hotel entrances for all persons entering. Anyone with a temperature of 37.5 degrees, even after a 5-minute rest will be denied entry.
Everyone is required to pass through sanitizing foot mats in all entry points.
Strict implementation of physical distancing measures will be followed. Acrylic barriers are set up at the front desk to maintain physical distancing of at least 1 meter.
To minimize face-to-face contacts, guests without reservations shall register or book at the assigned computer kiosk at the business center. Online payments are strictly encouraged and check-out guests must drop their keycard in the designated drop box located at the Front Office.
SANITATION 
Alcohol / sanitizer dispensers are available at the lobby or reception area and all common areas.
Regular sanitation every two hours of high-touch surfaces in all common areas shall be implemented
ELEVATOR USE
Only a maximum of four persons shall be allowed to use the elevator at any time.
HOUSEKEEPING
No in-room housekeeping will be done for the duration of the guest's stay. However daily trash and dish-outs shall be carried out.
Cleaning staff must wear appropriate personal protective equipment at all times. On-site ozonators are used to sanitize the air from harmful viruses and bacteria.
RESTAURANTS AND FOOD SERVICE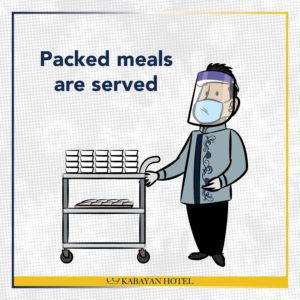 Restaurant outlets are not open to sit-down service in compliance with physical distancing rules. Buffet meals are also no longer available. Instead, packed meals can be ordered both for pick-up or through delivery food outlets.
We are all in this together. Stay safe and we look forward to warmly welcome you and serve you once again.