Paskong Kabayan Party Package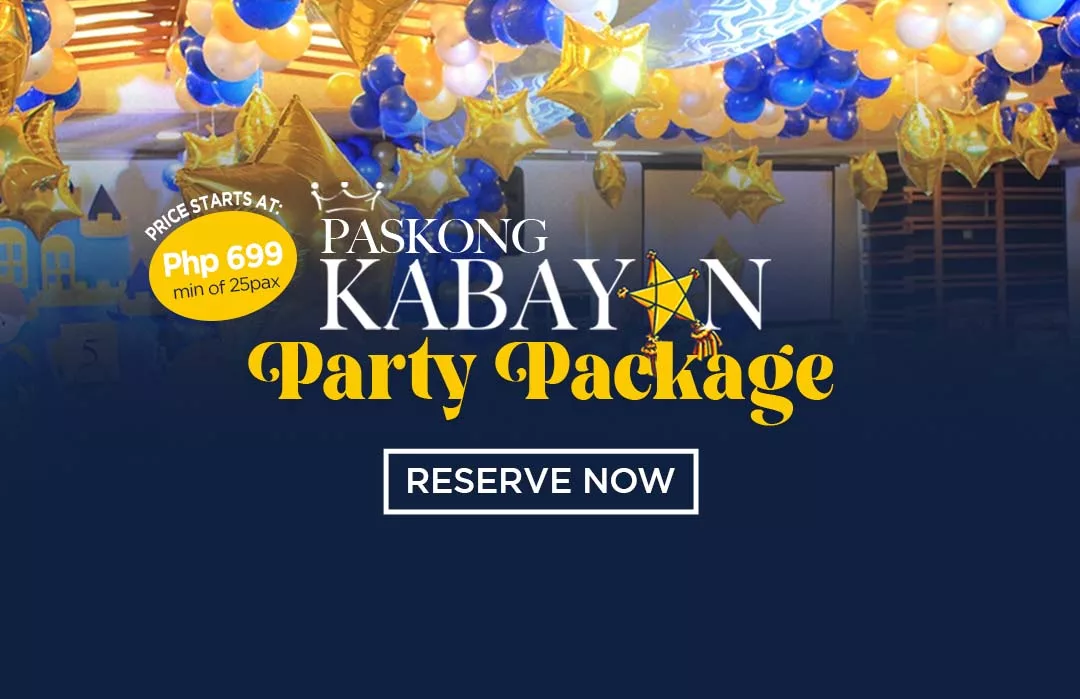 Paskong Kabayan Party Package
Package A (Good for 25 pax)
Package B (Good for 50 – 100 pax)
Managed Buffet: Php 699/pax
Buffet: Php 999/pax
Terms & Conditions:
– Prior reservation is required.
– Corkage fees shall apply for bringing food and drinks to the venue.
– All bookings need to be guaranteed by cash or credit card payment link at the time of booking. Hotel Cancellation Policy will be applicable.
– Corkage fees shall apply for bringing food and drinks in the venue.
– The hotel reserves the right to change without prior notice, cancel, or invalidate the program. Also, to reject any claim in the event of an irregularity, discrepancy, or dispute.
– This offer cannot be used in conjunction with any other offers, programs, or promotions.
– A 50% down payment is required upon signing of banquet contract.
– The remaining 50% balance will be paid on the day of the function.
– Any additional and incidental changes (breakages, additional number of guests) must be settled in cash after the event, prior to egress.
– Any additional or optional services must be coordinated with the Event Coordinator at least one week prior to the events.
– Cancellation Policy in the event of no shows or cancellations, the following shall apply:
∙ 10 days before the event – 20%
∙ 9 to 4 days – 50%
∙ 3 to 2 days – 80%
∙ On the day of the event – 100%
– If required deposits, guarantees, or payments are not received on the days indicated, regrettably, the reservation may be subject to cancellation without prior notice.
Promo Duration: November 16, 2023 – January 15, 2024
For complete details on our packages, click here.
For inquiries and reservations, contact +639175711252 or email [email protected]