Kabayan Hotel Amenities
At Kabayan Hotel, everyone is a VIP: a Very Important Pinoy. 
Our hotel aims to deliver excellent Filipino hospitality that is bound to leave a mark in the hearts of our guests. We do this by offering great food that's reasonably priced, hotel facilities and amenities that fulfill basic travel needs, services that promise utmost convenience, and a skilled staff who will go the extra mile to make sure that your accommodations are comfortable, clean, safe, secure, and within your budget.
All these—plus a hotel location in Manila near landmarks like airports, shopping malls, government offices, and popular tourist attractions—make our accommodation your top choice. Book a Kabayan Hotel room today and experience practical and carefully curated hotel amenities, facilities, and services during your stay.
Check Out the Latest Promos and Discounts at Kabayan Hotel
You'll also enjoy special discounts and other privileges when you celebrate special occasions at Kabayan Hotel, including the hotel's anniversary and seasonal holidays. Stay up to date with our promos to book rooms at up to 50 percent discount and to take advantage of perks like fresh fruit platters, breakfast, and access to the hotel buffet.
Kabayan, let us treat you to a proper homecoming soon. Book your accommodations at Kabayan Hotel now!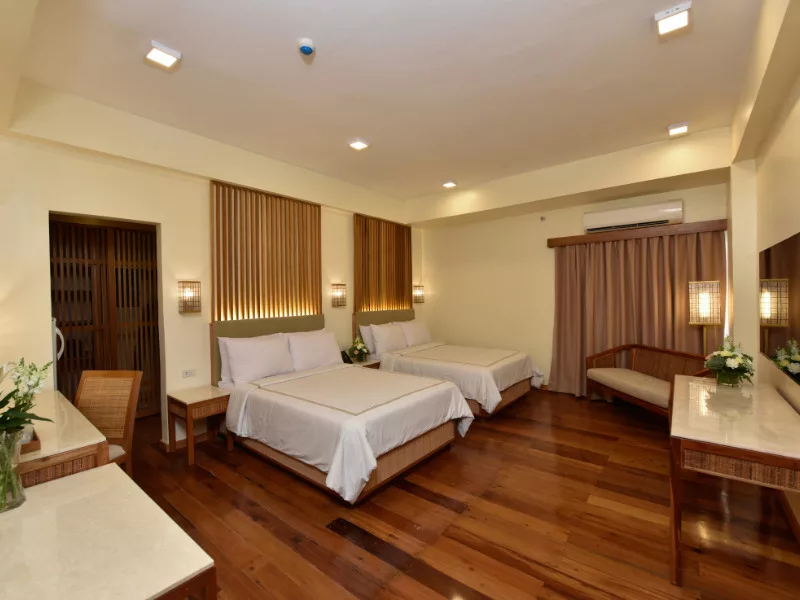 Why Stay at Kabayan?
Kabayan Hotel promises smart, practical, and comfortable hotel rooms, plus facilities, amenities, and services that will please guests coming from in and out of the Philippines. Check in at Kabayan Hotel now to receive a full hospitality experience, regardless of your accommodation option and budget. 
For more than 22 years, Kabayan Hotel has provided a warm welcome to OFWs and balikbayan travelers by serving as a safe space where guests can focus on resting and creating memories with family members. Our spacious and well-appointed rooms are designed to help our guests have that experience, whether they're returning to the Philippines on vacation or for good.
Kabayan Hotel's in-house Salo Restaurant is where the entire family can feast on Filipino dishes and snacks. The restaurant can seat 150 people for events, which makes it a great option for family reunions, get-togethers, and despedida parties.
Should you need assistance as a returning OFW, our OFW Help Desk is where you can go to secure assistance in processing and printing documents and sending inquiries to government agencies.
Kabayan Hotel is in an accessible location that's just a few minutes away from NAIA. Our hotel offers business travelers this advantageous address as well as the option to book airport transfer services to and from any of NAIA's Terminals.
We offer 24-hour reception, room service, and in-room dining, ensuring that business travelers are able to access essential needs no matter the time of day or night. The hotel also has a laundry service and an ironing station as well as a business center, allowing business travelers to look sharp and come prepared to any business engagement they have in the Metro.
Leisure travelers will find Kabayan Hotel a practical option whether they're traveling on their own or with a group. Our accommodations options also appeal to a variety of budgets. We have rooms with deluxe amenities as well as modest Kapsule rooms that will suit the needs of solo travelers, and we also have dormitory-style and group accommodations for those who are traveling with their families for vacations, officemates for team building activities, or barkada mates for nights around town.
Our hotel offers a complimentary Wi-Fi connection, which will allow you to update your itinerary or check on your social media accounts no matter where you are in the vicinity. And if you're hungry, your group can always head to Salo Restaurant for a filling meal or treat. The restaurant is also open for hosting events and activities.
How to Book a Stay at Kabayan Hotel
Book a stay today at Kabayan Hotel and secure reasonably priced accommodations that are close to transportation hubs, commercial centers, and other key points of interest in Metro Manila. Check out which of our accommodation options best suits your travel needs and secure the use of services and facilities that will make your stay more convenient for everyone you're traveling with.
To book, simply click the yellow Book Now button, fill in the dates and number of guests per stay, and choose the room you'd like to stay in. You can also explore our Promos page to see ongoing promotional and marketing campaigns that you can incorporate into your next holiday booking.